Protecting our guests and staff in the age of Covid-19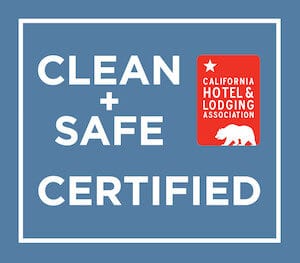 The Park James is an official Clean and Safe Certified hotel by the California Lodging Association. At the Park James, we believe the details matter. Just as we have focused on the smallest details of our design, customer service, and food and beverage offerings, we are now focused on the details of our response to Covid-19.
While we have always had exceptionally high training and cleanliness standards, we are elevating our efforts to even higher levels to ensure the safety and well being of our guests and employees. Here is what guests can expect:
For a check-in free of interaction with staff, you have the option of downloading the Intelity App on your smartphone before you arrive so that you can use mobile check-in, rather than stopping by the Guest Reception desk.
Should you choose to check in at our Guest Reception desk, you will be greeted by a member of our customer care team, who will have had their temperature checked when they arrived at work. They will be welcoming you with a smile, albeit one you cannot easily detect behind their facemask. We also ask that our guests wear facemasks whenever they are in public spaces, per our community health guidelines.
As you check in, you can feel confident that the desk, credit card processing equipment and your room key have been thoroughly sanitized before your use. Our front desk staff is also taking measures to carefully and frequently wash their hands or use hand sanitizer between each guest interaction.
On the way to your room, you can be comforted knowing that all of the public spaces are being cleaned frequently. For your convenience, hand sanitizer is located throughout the public spaces, including in the elevator.
Because we care, we don't share the air. The Park James Hotel was designed with special attention given to air quality. Each of our rooms has its own HVAC system, ensuring that the air between guest rooms is never shared.
You can rest assured that the surfaces in your room have been sanitized with hospital-grade disinfectants and Ultraviolet Light technology. All high touch points will have received special attention, such as TV remotes, tablets, telephones, bathroom amenities, and door window, faucet and shower handles. All glassware will be sanitized and placed in your room just before your arrival.
We understand that everyone has different needs and comfort levels during this time. To limit interaction between guests and staff, your room will be cleaned and sanitized on check out. Should you desire additional housekeeping services or amenities, simply place the request using the Intelity App on your in-room tablet or contact Guest Services via the in-room phone. We will be happy to accommodate your requests to ensure your stay is seamless and comfortable.
You can still expect the same level of delicious dining experience at Oak + Violet; currently we have a multitude of options available – outdoor dining on our patio or in our courtyard, Indoor at Oak + Violet, to-go orders delivered to your guest room or take-out orders, which can be picked up at the service counter in the bar at Oak + Violet.
Should you wish to take advantage of our al fresco dining options, tables have been socially-distanced and are currently available by reservation for parties of up to six people. Tables and seating areas will be sanitized between each use.
One slight change has been made to our breakfast offering to protect our guests; a continental breakfast can now be ordered for delivery to your room or picked up to enjoy in the courtyard. Please place your order with the front desk the night before.
Our indoor/outdoor fitness center and adjacent stretching lawn offer a perfect place to get in a great workout, while enjoying the fresh air and beautiful Bay Area weather.
We will be disinfecting the fitness center equipment on a frequent basis and also providing disinfecting wipes that you can use to wipe down equipment. We ask that guests follow proper social distancing and health protocols and also bring a towel and water from your room to enjoy during your workout.
If you have opted to download the Intelity App, you can simply check out on your smartphone. You can also check out on the Intelity App on your in-room tablet. Simply leave your key in your room and the room attendant will collect and sanitize it along with the rest of the room on your departure. 
Feel free to check out at the Guest Reception desk as well. We would love to get a chance to say goodbye and provide any directions or other assistance you may need.
Whether you are ready to travel now or are planning for future travel, we are here for you and will take every precaution to provide you with an enjoyable and restful stay. In addition to the guidelines above, you can always call or email us in advance of arrival with any questions or special requests that would further enhance your visit.
Until then, we wish you and your loved ones good health.